Modern Size-Exclusion Liquid Chromatography: Practice of Gel Permeation and Gel Filtration Chromatography, 2nd Edition
Books
Published: Jul 10, 2009
Author: Andre Striegel, Wallace W. Yau, Joseph J. Kirkland, Donald D. Bly
ISBN: 978-0-471201-72-4
Format: Hardcover
Extent: 512 pages
Channels: Gas Chromatography / HPLC / Ion Chromatography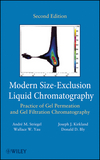 The Second Edition of Modern Size-Exclusion Chromatography offers a complete guide to the theories, methods, and applications of size-exclusion chromatography. It provides an unparalleled, integrated, up-to-date treatment of gel permeation and gel filtration chromatography. With its detailed descriptions of techniques, data handling, compilations of information on columns and column packings, and tables of important solvents and reference materials, the book offers readers everything they need to take full advantage of this popular macromolecular characterization technique.
Since publication of the first edition in 1979, there have been many important advances in the field of size-exclusion chromatography. This Second Edition brings the book thoroughly up to date, with expert coverage of:
New and emerging industrial and research applications
Practical aspects of size-exclusion chromatography (SEC) and multidetector and multidimensional SEC technologies for polymer architecture and copolymer analysis
Updated information on the latest equipment and techniques
New best practices for the lab
SEC in relation to polymer characterization techniques such as GPEC, LCCC, and rheology
Throughout the text, detailed examples guide you step by step through all the latest techniques and applications. With its extensive revisions and updates written by leading experts and pioneers in the field, Modern Size-Exclusion Liquid Chromatography remains the definitive resource for the broad range of researchers and scientists who use HPLC and GPC methods.
Social Links
Additional Links
Microsites
Most Viewed