Mass Spectrometry in Grape and Wine Chemistry
Books
Published: Jan 26, 2010
Author: Riccardo Flamini, Pietro Traldi
ISBN: 978-0-470392-47-8
Format: Hardcover
Extent: 368 pages
Channels: Proteomics & Genomics / Electrophoresis / HPLC / Detectors / Gas Chromatography / Laboratory Informatics / Sample Preparation / Ion Chromatography / Base Peak / X-ray Spectrometry / NMR Knowledge Base / Chemometrics & Informatics / MRI Spectroscopy / Raman / UV/Vis Spectroscopy / Proteomics / Atomic / Infrared Spectroscopy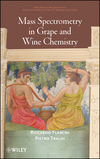 A concise, up-to-date overview of the applications of mass spectrometry
To be able to estimate the potentiality of grapes and how it may be transferred into wine is key to grasping enological chemistry. Nowadays, mass spectrometry is a crucial aspect in ensuring the production, the quality, and the safety of grape, wine, and grape derivative products. Mass Spectrometry in Grape and Wine Chemistry examines in depth the relationship between the high structural identification power of mass spectrometry techniques and the chemistry of grapes and wine.
The text is divided into two parts. The first section provides an overview of mass spectrometry methods in relation to enology in three chapters. The second section offers seven chapters on wine chemistry as well as traditional topics and new developments in mass spectrometry. Mass Spectrometry in Grape and Wine Chemistry explores many mass spectrometry applications, including:
Ionization methods

Mass analyzers and mass measurements

Mass spectrometry methodologies

Grape aroma compounds

Volatile and aroma compounds in wines

Grape and wine polyphenols

Compounds released by wood into wine

Wine defects caused by compounds

Pesticide detection analysis

Peptides and proteins of grape and wine
Written by leading experts in the field, this book presents an introduction to mass spectrometry and outlines ways to maximize quality control and product safety for the best results. Mass Spectrometry in Grape and Wine Chemistry is an essential handbook for laboratories working in enology.
Social Links
Additional Links
Microsites
Most Viewed