Hydrophilic Interaction Chromatography: A Guide for Practitioners
Books
Published: Mar 12, 2013
Author: Bernard A. Olsen, Brian W. Pack, Mark F. Vitha
ISBN: 978-1-118054-17-8
Format: Hardcover
Extent: 336 pages
Channels: Gas Chromatography / Ion Chromatography / HPLC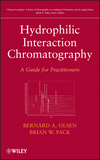 Discover how to use HILIC to analyze and better understand polar compounds
An increasingly popular analytical method, hydrophilic interaction chromatography (HILIC) has the ability to retain and separate polar compounds that are often difficult to analyze by reversed-phase high-performance liquid chromatography (HPLC) or other analytical methods. Offering a comprehensive review, this book enables readers to develop a fundamental understanding of how HILIC works and then apply that knowledge to develop and implement a variety of practical applications.
Hydrophilic Interaction Chromatography begins with discussions of HILIC retention mechanisms, stationary phases, and general method development. This sets the foundation for the book's extensive coverage of applications. The authors address unique separation challenges for bioanalytical, environmental, pharmaceutical, and biochemical applications. Moreover, there is a thorough discussion of HILIC in two-dimensional chromatography.
With contributions from leading analytical scientists who have extensive experience in HILIC as well as HPLC, Hydrophilic Interaction Chromatography serves as a practical guide for researchers, featuring:
Detailed examples of HILIC methods and development approaches
Thorough explanations of retention mechanisms and the impact of stationary phase and mobile phase properties on separations
Step-by-step guidance for developing efficient, sensitive, and robust HILIC methods
References to the primary literature at the end of each chapter
Hydrophilic Interaction Chromatography is written for scientists who use or develop analytical methods for the separation of polar compounds. In particular, these researchers will discover how HILIC can be used to analyze and better understand the composition of pharmaceutical, bioanalytical, biochemical, chemical, food, and environmental samples.
Social Links
Additional Links
Microsites
Most Viewed