High Content Screening: Science, Techniques and Applications
Books
Published: Feb 1, 2008
Author: Steven A. Haney
ISBN: 978-0-470039-99-1
Format: Hardcover
Extent: 448 pages
Channels: Ion Chromatography / Gas Chromatography / Laboratory Informatics / Detectors / Proteomics & Genomics / Electrophoresis / Sample Preparation / HPLC / Raman / Base Peak / Proteomics / Infrared Spectroscopy / NMR Knowledge Base / X-ray Spectrometry / UV/Vis Spectroscopy / Chemometrics & Informatics / Atomic / MRI Spectroscopy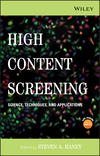 The authoritative reference on HCS in biological and pharmaceutical research

High Content Screening (HCS) has been a leading methodology in toxicology studies for years. Recent advances have broadened the range of applications to encompass new areas. High Content Screening: Science, Techniques, and Applications provides comprehensive coverage of HCS in four sections:
*

The basics of HCS, from the definition to detailed discussions of component technologies
*

Examples of HCS used in biological applications and early drug discovery, with an emphasis on applications in oncology and neuroscience
*

The use of HCS across the drug development pipeline
*

Data management, data analysis, and systems biology, with guidelines for using the large datasets generated by HCS in systems-level studies

With chapters contributed by leading authorities from academia and industry, this guide covers:
*

A wide range of topics, including assay development, cell culture, image processing, robotics, database architecture and management, model systems for analysis, and more
*

Focused discussions on imaging in 3D, imaging of tissues for pharmacodynamic studies, and screening of both small molecule and RNAi libraries by HCS
*

The roles of bench researchers and IT personnel in implementing and maintaining HCS platforms
*

The challenges and advantages of using HCS today, and a look at future directions

With eighty-seven detailed figures readers can refer to in full color on the accompanying CD-ROM, this is the premier, hands-on reference on HCS for researchers in academia, biotechnology, and pharmaceutical companies. It's also an excellent resource for lab managers and graduate students in biochemistry, cell biology, toxicology, and related fields.
Social Links
Additional Links
Microsites
Most Viewed